Thank you for registering for our virtual birthing class. You will be emailed a link to join the class at the scheduled time.
In order to participate you will need one of the below:
Smartphone
Tablet
Computer equipped with a camera and a microphone.
We use BlueJeans to host our classes. You will need the BlueJeans app installed on your device prior to your class.
BEFORE your scheduled class do the following for the BEST experience:
Follow the proper instructions and TEST your setup. The instructor cannot wait or stop the class as its unfair to the other students.
Before the class, find a quiet room where you and your partner can concentrate without distractions
Its best if you are not interrupted with phone calls, others walking into the room and other home distractions.
REMEMBER THE TEACHER CAN SEE YOU AND YOUR ROOM
If you are using your cell phone, place it on a stand so its stable, avoid holding it in your hands if possible.
You may want to consider calling into the class for audio, maybe on your partners phone.
Sit Back – Relax and remember "Babies DO come with instructions"!
Download the app from the Google Play Store.
For instructions on how to download, install and use the app, Click Here for our quick training video or follow these steps:
Visit the Blue Jeans for Android page on the Google Play Store, select Install, and launch the App from your device to begin.
After launching the app, to join a meeting:

If you have a Blue Jeans account, sign in at the bottom, or
Participants without a Blue Jeans account, click the "Join a Meeting or Event bar"

You'll land in the app:

Enter the meeting ID (and passcode, if necessary)
Enter your name
Mark if you want to show your Video, and
Click Join Meeting

After joining the meeting, you'll have the following in-meeting options:

Mute your mic or camera, change Video Layouts (3 options), change your camera to front or back, or end call
Tilt your mobile to landscape to expand
When others share their screen, you'll see the shared content and the participant videos

Click/Swipe top left icon to access Layouts, Screen Sharing and Invitation options.
Click/Swipe icon at top right to view participant roster, or chat with meeting participants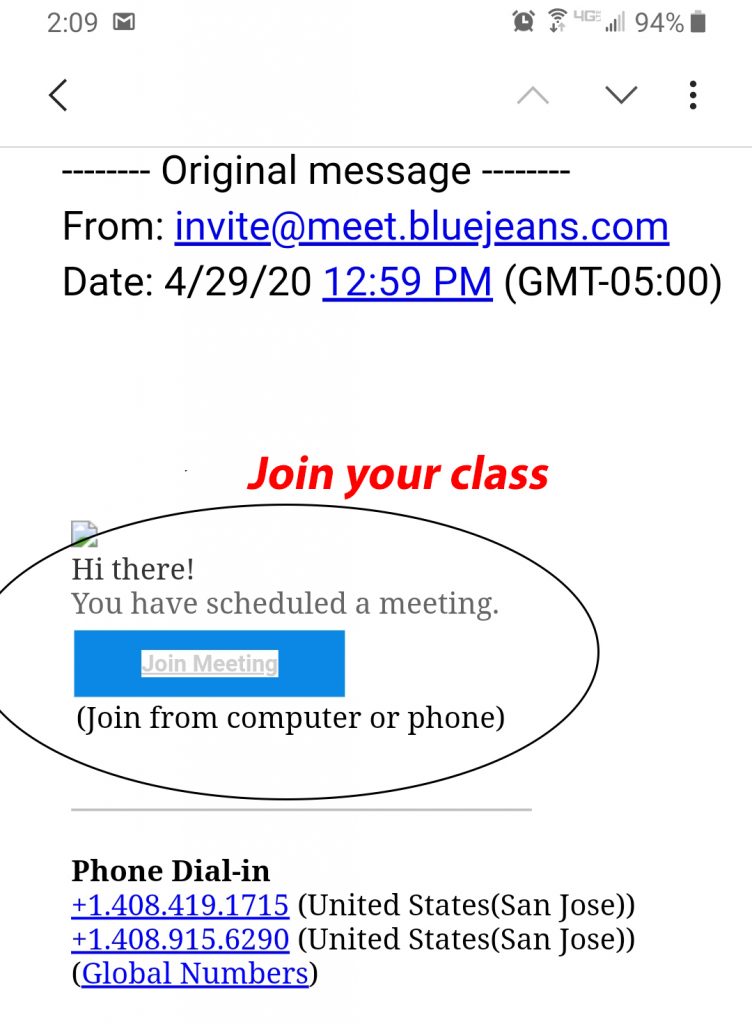 To install and use the BlueJeans app on your iOS device:
Download the BlueJeans app from the app store, then click on the icon to enter.
Log into your account with your username and password.
Use the link we send you to access your meeting.
You'll land in the meeting! Press an icon to:

Chat, Mute your mic or camera, change Video Layouts (3 on-screen options), change your camera to front or back, or end the call. (up to nine video panels will be shown in Constant Presence mode for iOS devices).
Your camera image is shown at the bottom right
Note ear-bud/speaker behavior, found at the bottom of this solution

Click/Swipe icon at top left for more options:

Invite options
Change the Layout, to either:

Constant Presence (up to four speakers shown equally)
Active Presence (speaker talking at top, with thumbnails of most recent speakers at the bottom)
Active Speaker (just the speaker shown)

Share Screen on iPhone or iPad
Visit https://www.bluejeans.com/downloads
Install the application
Set your audio preference: using your computer for audio, or from a separate phone. We recommend using your computer audio.
Finally, check to make sure your appearance looks good before joining the meeting – mute mic or camera if needed.
Double click the link in the class email we sent you
Click JOIN to enter the meeting!