Home Births on the Rise
This article originally appeared on October 9, 2015, CRAIN's New York Business.
By Samantha M. Shapiro
Brooklyn midwife Miriam Schwarzschild logs about 1,200 miles a month in her bumper-stickered Prius. Crisscrossing the city, she visits pregnant clients in their homes for prenatal exams and, four or five times a month, helps one give birth, usually in an inflatable birth pool or on a bed lined with absorbent pads.
On a Wednesday morning in August, Schwarzschild— dressed in jeans, a blue T-shirt and thick black glasses—set out from her Park Slope brownstone for a prenatal checkup at the edge of East Harlem. Schwarzschild was licensed as a certified nurse midwife in 1989 and delivered babies in hospitals for a few years, but she always planned to be a home-birth midwife. "I felt like this has to be an option," Schwarzschild said, as her orange hybrid bumped its way up the FDR. "It has to be safe."
Schwarzschild arrived at the appointment ahead of schedule. After parking her car, she retrieved a duffel of supplies from her trunk and headed up four flights of stairs to see Jenny Crutchlow, a 43-year-old opera singer/executive recruiter who was eight months' pregnant with her third child.
Crutchlow had delivered her first child in a New York City hospital, an experience she describes as "horrific and traumatic." In that pregnancy, Crutchlow went past her due date, and doctors told her she would be risking her son's life if she waited to go into labor naturally. She finally agreed to an induction at 42 weeks, but 36 hours into labor, 10 centimeters dilated and pushing, she was told that the hospital had a two hour limit on pushing.
So, after two hours and 22 minutes, with her baby's head crowning, Crutchlow said, she was sent for a cesarean section, very much against her will. "I was fine, the baby was fine; there was no reason other than they didn't want to wait around," she remembered. "I was crying so hard I couldn't read the consent form."
Soon after the procedure, Crutchlow's incision became infected. She and her husband had to pay for a nurse to come to their house and dress the wound, which eventually abscessed and required additional surgery. The next time she became pregnant, Crutchlow knew she wanted to avoid the hospital. Although her first doctor had said she would likely never be able to give birth vaginally, Crutchlow wanted to attempt a vaginal birth after a c-section. Options for women who want a VBAC are limited. Because of a small but very serious risk that a scarred uterus can rupture during labor, many American obstetricians simply refuse to do them—or place many restrictions on women who try.
"I had no confidence at all that if I went to a hospital anywhere in New York City that I would succeed, even with a VBAC-friendly provider," Crutchlow said. So she traveled to The Farm, a commune in Tennessee that is considered the epicenter of the home-birth movement. It is where Ina May Gaskin, a famous midwife, practices.
Crutchlow and her family lived in Tennessee for six weeks before the birth. Again, her pregnancy lasted longer than 40 weeks, and again the practitioners—this time, the midwives at The Farm—insisted that she induce using natural methods or go to the local hospital. Under duress, Crutchlow took castor oil, which put her into labor. She delivered her son vaginally.
At her prenatal exam with Schwarzschild this past August, the women talked as Crutchlow's sons played with Legos, and her husband offered tea. They discussed Crutchlow's job, her plans for leave and the allergen-free cupcakes she was going to make so her second son could celebrate the upcoming birth. Have you been on a scale recently?" the midwife asked. "I think it was 149," Crutchlow reported.
Schwarzschild entered the information into an app chart on her iPhone, then took a fetal Doppler, which is used to listen to the baby's heart, from her bag. Crutchlow reclined on the sofa while Schwarzschild examined her belly. "This is not a big baby—not even 6 pounds yet," the midwife said, pressing a bit. "I think I feel a hand down here. So cute!" Crutchlow's previous babies had been posterior, a more difficult position for childbirth, so she asked about finding someone trained to use a rebozo, a long cloth that can be used to manipulate the baby's position in utero to facilitate easy labor. The technique had successfully rotated her second son from the posterior position when she was in labor at The Farm.
The visit lasted an hour—about five times as long as a typical OB checkup—and covered many issues that would never be raised in a more institutional setting. In some parts of the country—Montana, for instance—women may decide to give birth at home because they have a three-hour drive to the closest hospital. But in dense, urban centers like New York, women who choose home birth are going out of their way to avoid the hospital because they are looking for the chance to give birth on their own terms, with no constraints on movement, eating and drinking, or duration of labor.
Home-birth midwives don't carry malpractice insurance, so most insurers do not cover them. As a result, many women pay some costs out of pocket. Birth supplies and, often, a doula—who supports the mother—can add an additional $1,000 to $3,000 to the tab. Nonetheless, the rate of home births has increased by 50% nationally in the past decade and expanded at an even faster pace in New York state.
HARD STATISTICS ARE DIFFICULT TO COME BY, but it's safe to say that what might be called the boutique birthing business is growing in New York City. When Schwarzschild began attending home births, in 1992, there was only one other home birth midwife delivering babies in the city; today, there are at least 22.
They meet every six weeks to review cases and discuss billing issues; they typically earn between $5,000 and $11,000 for each of the handful of births they attend each month. The midwives are part of an ecosystem that includes hundreds of local practitioners, consultants, educators, retailers and other small-business operators, ranging from the mostly familiar (lactation consultants, doulas) to the fairly obscure (rebozo practitioners, preconception mother-child bonding experts and preparers of placentas for maternal consumption).
Together, these businesses make up a unique sector of the economy, with estimated revenue between $5 million and $10 million annually. On the one hand, the sector's growth is fueled in part by those at the top of the socioeconomic ladder—that is, consumers who can afford the often-pricey services and products not covered by insurance. On the other, many of those who provide such services are motivated by ideology more than economics, and they adjust their fees to accommodate others who share their worldview.
Schwarzschild, for example, is one the most experienced home-birth midwives in the city and has her pick of expectant mothers. She doesn't travel to the Bronx or to Staten Island, nor does she take on a woman with whom she doesn't click. But she accepts payment in monthly $50 money orders from one client and is the rare home-birth midwife who will take a client who wants a VBAC. Although she makes a nice living as a midwife, her approach is more akin to that of a community organizer than a small-business owner. "I have no business plan," Schwarzschild said. "My mission is to serve the community." Like midwives, doulas are on call 24 hours a day and rarely come to the profession with a small-business orientation. That combination leads to a high burnout rate. The Metro Doulas Group, a listserv for city based doulas, has 275 working members in its database—a surprising number, given that Birth Day Presence, which offers childbirth education and doula services at its locations in SoHo and Park Slope, trains 100 doulas annually. Some women who go through the training program use their new knowledge solely to augment another birth-related business, such as acupuncture, but many more wear out.
"There's a short life for a doula,"said Jennifer Mayer, 32, who has been transitioning into other areas to minimize the toll the work takes on her life. "Many doulas don't realize how much small-business knowledge you need. They're really passionate about attending women in labor but have no interest in running a business and just can't pay the bills. Plus, it can be hard on relationships."
Doulas' income varies widely, and only a small subset make their living on it. Some 40% of 112 doulas surveyed in New York City in 2014 by the nonprofit advisory group Choices in Childbirth reported making less than $1,000 a month, while a small percentage made more than $10,000 a month. Doula fees range from $500 to $10,000 and depend on experience and on what residents of a given neighborhood can pay. Rochel Vail is one of the city's most experienced doulas, having attended 3,000 births during the past 30 years. (She achieved some fame for delivering a baby—unintentionally— in a New York State Thruway rest-stop bathroom.)
"I was a doula before it became the 'in' thing 10 years ago," she said. But Vail charges only $500 to $1,000 because she works in the religious Jewish community of Crown Heights, Brooklyn, where the parents of large families cannot afford $3,500 for a birth attendant. "I know I can make more," she said, "but I would rather work with my [mothers]." To be sure, some service providers evince a more bottom-line orientation. But most are driven in part by a desire to fix what they see as flaws in American maternity and postpartum care.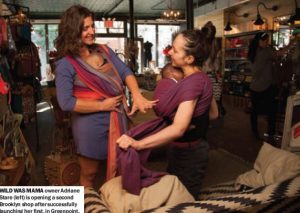 FOR MOST OF U.S. HISTORY, childbirth took place at home, attended by midwives, with support from relatives and friends. The move to in-hospital obstetric care, which occurred gradually in the last century, added interventions that generally made birth safer for high-risk women but more difficult for many low-risk mothers. In the 1950s, for instance, all first-time mothers were subject to the use of forceps during delivery.
And today, more than a third of American babies are born via surgery—a rate even obstetricians' groups acknowledge is too high—while the majority of U.S. births involve the use of epidural anesthesia or the labor-inducing drug Pitocin. Studies show that the use of such interventions is a significant concern to American women. But several factors—the insurance industry's practice of compensating obstetricians per intervention, the growing pressures on physicians to carry a high volume of patients, the fear of lawsuits should births go badly—have combined to dissuade hospitals and medical practices from taking a wait-and-see approach to healthy labors. Whatever one's view of this state of affairs—a subject that regularly leads to flame wars on social media—the medicalization of birth has had undeniable ripple effects.
When birth left the home, the constant support of a trusted friend or relative during labor and the postpartum period was also lost. Most hospital labor and delivery nurses attend to several patients at once while also dealing with a variety of bureaucratic tasks.
The widespread use of formula, meanwhile, interrupted the mother-to-daughter transmission of basic breast-feeding skills; many women have never seen a baby breast-feed before they attempt it for the first time.
In a highly mobile society, where most women live apart from their extended families, the need for a postpartum support network is great. Many doulas emphasize the after-birth period: sitting with new moms, providing a calming presence and helping with housework—in short, the role a sister would have played 100 years ago.
The movement to medicalize birth was led partly by urban middle-class women associated with the early feminist movement, who thought the freedom from pain promised by anesthesia would be empowering.
Today, much of the effort to return to less-interventionist births, as well as the folkways and traditions of new-mom support, is being led by the same class of women, who have the means to pay the costs of outside-the-hospital care and are driven by a vision of birth as empowering.
It's no surprise, then, that the boutique birthing business is thriving in the Big Apple. In 2013, New York City had its lowest birthrate since the Great Depression: 14.3 per 1,000 people. Still, more babies were born in the city—more than 120,000—than were delivered in 41 states (and some countries).
The neighborhoods experiencing higher birthrates are also, in general, the most affluent: TriBeCa, the Upper East Side and Brooklyn Heights. (The major exceptions are those areas with large populations of ultra-Orthodox Jews, whose birthrate of 29 per 1,000 is the city's highest.)
That subset of Big Apple parents are evidently willing to pay $3,500 for a deluxe maternity photo shoot or about $2,000 a night to have a professional sleep trainer stay overnight and listen to their newborn wail piteously as part of the "cry-it-out method." City parents support the country's largest baby expo—the New York Baby Show, which takes place over a weekend in May each year at Pier 92 in Manhattan—as well as five other trade shows. Explained Eric Messinger, editor of New York Family Magazine, which sponsors the baby show, "New York City has enough parents who want the best for their baby—and can afford it." One thing these parents want is a kind of care not found in the current hospital-based approach to birth.
"If women could get the level of care they want," said Michele Giordano, executive director of Choices in Childbirth, "we would see fewer businesses trying to fill those gaps." In the past 20 to 30 years, an industry has quietly grown around the professionalization of
more-traditional forms of support. A doula licensing group, Chicago-based DONA International, first certified birth attendants in
1992, more than a decade after the International Board of Lactation Consultant Examiners began to license professional lactation consultants.
More recently there has been a movement to create standards around eating placenta, an ancient custom back in favor because anecdotal evidence suggests it can improve postpartum mood and breast-milk production. In 2011, the Association of Placenta Preparation Arts began to offer a voluntary six-month certification that requires members to learn basic food-prep safety and blood-borne pathogen guidelines before they can make their placenta truffles, smoothies or pills. New York City also offers its own license through the independent Childbirth Education Association. Although most hospitals offer a plethora of classes, thousands of women in the city choose instead to study with the 23 educators certified by the CEA, not to mention those trained in the hypnobirthing, Lamaze and Bradley methods. Costs for such classes typically run about $400 for a five-class series, plus books.
There are also parent groups that drill down to specific 10-block radii to help new moms connect to each other. Park Slope Parents, Hudson Yards Mamas and Bowery Babes all charge an annual membership fee of less than $100 to let moms convene by birth month.
The largest and most lucrative of these village building businesses is run by Renee Sullivan, who once worked at a branding and printing company. Since 2008, though, she has run the Moms Groups, charging women $200 to participate in five small cluster sessions with other mothers in the same life stage. "Our motto is 'You bring the baby, we will bring the village to you'—so you have the strength to get through all the changes," she said.
Sullivan said her business benefits from the age of anxious Internet parenting. "Now anyone can post anything anywhere," she said. "There are too many choices, and moms are 500% more anxious than they were even three years ago." In a landscape with hundreds of stroller brands and dozens of approaches to baby sleep, Sullivan said, the need for "curated" information delivered in small, trust-based groups has grown dramatically.
These wide-ranging "sectors" interconnect in a kind of virtuous circle, a self-sustaining supply/demand dynamic. Birth educators invariably suggest to students that they hire a doula or lactation consultant. A lactation consultant, in turn, is likely to send a client to a breast-feeding store, such as Upper Breast Side in Manhattan.
A mother who learns the benefits of extended breast-feeding will often need nursing-friendly clothes or a stylish breast-pump bag—with room for work items, too—from the New York-based Nurse Purse ($129).
IN THE PAST YEAR, a for-profit chain called Baby+Company has built birth centers in five U.S. cities that combine product sales and educational classes with service providers such as doulas, lactation consultants and midwives who offer unmedicated delivery in a "spa-like environment."
The company has worked out agreements with local insurers that in effect allow Baby+Company staff to get paid for not intervening. Baby+Company has an eye on New York City but no plans to expand here yet. Currently, the city has only one free-standing birth center—in Brooklyn—although obstetrician Lisa Eng expects to open a second in Bay Ridge within the year. (There's also a natural-birth center at Mount Sinai Roosevelt, and plans afoot to open one at New York-Presbyterian/Lower Manhattan Hospital.) In New York, the suite of services provided by Baby+Company is spread out among freelance entrepreneurs, some of whom work in collectives, such as Carriage House in Williamsburg and Stork and Cradle on Staten Island. Birth Day Presence—which 38-year-old former dancer Jada Shapiro (no relation to the author) founded in 2002—is the oldest birth-related collective in the city. "It was very casual in the beginning," she said. "Just me and a friend." But Shapiro, a single mom, knows she needs to the pay the bills.
Today, Birth Day Presence is a structured business that generates $500,000 a year from two locations in SoHo and Park Slope, as well as classes in a half-dozen satellite locations. Shapiro—who has attended numerous celebrity births and has the lifetime nondisclosure agreements to prove it— considers herself a "birth activist," but says part of her company's success stems from being the first group in the field to move toward professionalization and away from ideology.
"I have a lot to say about how birth goes down in our country," Shapiro said. "But I know we have to meet our mothers where they are, and we cannot be in the business of proving how we think birth should be. We will not judge them if they want an epidural."
Shapiro, who said she is developing a product that will speed labor progression, recently unveiled a venture called "Breast Start," through which moms can request a lactation consultant by text.
AS IN MANY BUSINESS SECTORS, the Internet has also proved to be a business killer for independent maternity stores in New York, and the shops that are surviving have doubled down on the village approach, offering even wider support for new mothers.
In the past year, four of the oldest independent maternity stores in the city have closed. Sasadi Odunsi owned one of those stores: Bump, a high-end maternity boutique near Barclays Center in Brooklyn.
"When we opened eight years ago, online was not an option," she explained. "And as recently as three years ago, you could not get any of the high-end European brands without going to Europe. Now you can get anything on Amazon." Odunsi noted that fashion-forward blogs now focus on getting through pregnancy without maternity clothes.
That also hurt her business. When Rosie Pope, a British former model, opened a boutique in SoHo in 2008 selling her handmade maternity clothes, she noticed that shoppers asked her for advice on pregnancy- and parenting-related issues as well. So she started a concierge business that pairs women with the right experts. (It was documented for three seasons on a Bravo reality show called Pregnant in Heels.) And when Pope realized that the costs associated with her clothes were too high, she refocused. These days, she talks about her stores as more of a "community." Like Birth Day Presence, she partners with midwives and lactation consultants to offer classes on premises. She now has a second city location, on the Upper East Side, and one in Santa Monica, Calif.
Pope also launched baby bedding, baby shoes and nursing clothes lines to be sold by Lord & Taylor and Nordstrom. And she works with companies such as the Gap and Stride Rite to offer "Mommy IQ's," empowering video tidbits on Twitter, Instagram and Stride Rite's website that, she said, "don't make you feel crappy about yourself." She also has published a Mommy IQ's handbook. "There has to be a reason to go to a store these days," Pope said. "Stores have to be a place for people to gather."
Meanwhile, the retail space vacated by Bump is being eagerly filled by another baby-and-mom store called Wild Was Mama. Its owner, Adriane Stare, is looking to expand her lucrative business. Wild Was Mama's first location is in Greenpoint, Brooklyn.
On a recent Tuesday, Stare sat at a vegan café two doors down from her new space while her husband talked to contractors and watched their kids. Stare said she views Wild not as a retail store but as "a little village in the middle of Brooklyn. The Greenpoint location sells a $400 "mama coat" and unique woven wraps from Germany that a mother can use to "wear" the baby on her body for $100 less. But it also offers free meet-ups, classes, a nursing lounge and access to staff trained to adjust your baby carrier.
Over chia-seed pudding, Stare explained, "It's not a sales environment where we will only help you if you bought your carrier in our store. It's beyond retail. People come to meet with a lactation consultant or for a La Leche meeting or to sit in our back room and nurse for the first time in public—we get a lot of that. Sometimes they come because they just want to meet another mom or ask a question about teething or just to cry to someone." Stare also sees her job as a "concierge," matching people with resources. "Our business is expanding," she said, "because we are tapped into a thing people need: support. A lot of people have nowhere to go to ask questions, and their extended families are not around them." Stare said that offering education and being nice to people—customers or not—can have a direct impact on the bottom line. "When people become more informed and learn about different practices—like baby "wearing" or other ways to
enhance mother-child attachment and health," she said, "they may find they need a product we carry. Suddenly they don't just want to go to the drugstore for Vaseline to put on their baby's butt. More education means more business for us."
AT 40 WEEKS, Crutchlow was referred by Schwarzschild to a Mayan-abdominal-massage expert to help get the baby into a good position.
Crutchlow mentioned to her that rebozo-sifting at The Farm had helped her second son change positions, and the therapist returned a few days later with her rebozo cloth. That night, Crutchlow went into labor on her own, six days past her due date—early for her. She called Schwarzschild when the contractions were three to five minutes apart. "Are you sure they are that close together?" asked Schwarzschild, who was busy with a birth on Long Island. After timing one over the phone, the midwife sped to Crutchlow's apartment. "The parking gods and traffic gods were with her," Crutchlow said later.
Kaitlyn Rose Marie Crutchlow was born an hour after Schwarzschild arrived, in the birth pool, with her big brothers looking on. "Miriam grabbed my arms, which were draped over the side of the pool, and shoved them in the water," Crutchlow remembered. "I looked down and the baby was floating in front of me. I picked her up and put her on my chest. I was the first to hold her. And I got to announce the gender to everyone. It was a great, great experience." She ended up baking an allergen-free cake instead of cupcakes: chocolate with pink icing for the family of five. Mom and Dad washed it down with Champagne.