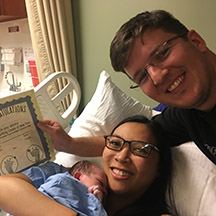 We delivered another BIBNY baby!!
Baby Calliope:
Date: 8:25 am
Time: 10/19/2017
Weight: 7lbs 4oz
Length: 21″
Calliope is now another BIBNY baby! – Born In Brooklyn, NY – At the Birthing Center of NY
The happy parents welcomed their new baby into the world. Baby Calliope and mom are doing great. Wishing them all the best!